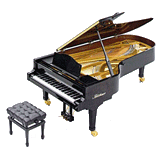 (Blüthner, Haessler, Irmler & e-Klavier)
The Piano With The Golden Tone
Bespoke Is Our Tradition - Luxury Blüthner Piano Designs Worldwide
Designed by Blüthner
Blüthner Digital
The Baldwin Legacy
Time honored design...and a legacy of superior craftsmanship.
It's the sound.
World's Finest Pianos - Made in the USA
Nord Keyboards
Brings Your Piano To Life
The Way Music Should Be Heard
Automatic Humidity Control for Your Piano
They specialize in the restoration of reproducing and player pianos, Nickelodeons, and other automatic musical instruments. When a piano restoration at Reeder Pianos includes complete restoration of the reproducing mechanism, Bennet Leedy Restorations does the player restoration.
Tuning and Repair
Mid-Michigan Area
Great pictures - Reeder Pianos
Concerts are held at the UrbanBeat Events Center in Lansing's Old Town.